FROM NAOMI GRAY | MARKET REALIST | http://bit.ly/2vW7Rn5
#Alibaba Opening Physical #Mall in #China
Alibaba (BABA) is building its first China-based physical mall, according to a report in China's finance newspaper Caixin. Operating a physical mall would be a significant step in Alibaba's efforts to blur the line between online and offline trade.
Alibaba's opening of a physical mall would also highlight the growing importance of physical locations to e-commerce companies. Amazon (AMZN), an Alibaba rival, has also been working to expand its physical store footprint. It has opened several physical bookstores and localized order collection hubs. The acquisition of Whole Foods Market is expected to further expand its physical store presence.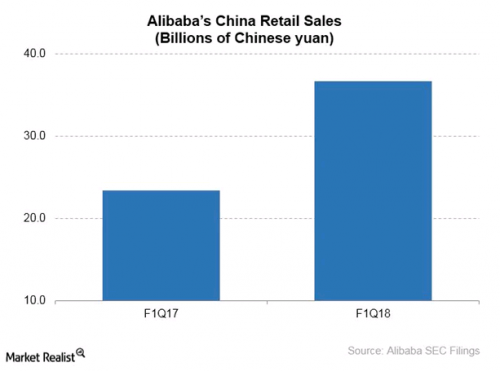 Whole Foods, which Amazon acquired for $13.7 billion to bolster its push into grocery, operates 460 stores. The upcoming Alibaba mall, to be called More Mall, will sit on a two-acre plot. The More Mall could open in April 2018. Like Amazon, Alibaba is eyeing the grocery market as it seeks to diversify its product offering and expand its market share. Alibaba's China retail sales rose 57.0% to 36.7 billion yuan, as shown in the above chart.
As part of its grocery push, Alibaba runs a grocery concept under the Hema brand. The More Mall is expected to bolster Alibaba's expansion into the grocery industry. In their grocery push, e-commerce providers are realizing that physical stores are indispensable. Amazon is battling for a share of the more than $800.0 billion US (SPY) grocery market against the likes of Walmart (WMT), Costco (COST), and Kroger (KR).